Proper training of Doberman is of great importance
For our loyal customers and those who joined us lately we created this

FREE Newsletter

, which you can subscribe for right here on this page! This is an alternative pages, our archive of all sent Newsletters for you not to miss something interesting, topical, life themes and discussions. Join us, learn everything you're interested in, get to know more about your dog's life and features and enjoy reading this intertaining, yet informative source!!
At last summertime has come! Moreover, it is in full play now! Your Doberman has a possibility to stay outside for longer time. When it is very warm nothing prevents him from gamboling, playing, jumping and swimming to his heart's contest. Without doubt you like to see him happy and lively. He is in high spirits because of your company, he would love to always be beside you and nurse you. I guess, Doberman can love its owner so dearly that he will eagerly sacrifice his life to save life of beloved owner. This handsome canine is well-built, graceful, quick and intelligent – in brief, he has all the dignities a truly pedigreed dog must have.
You watch him sleep, walk, meet his fellows – whatever he does you are mostly touched by. I love this dog breed very much. What really attracts me in them is their ability to learn fast. Why not to teach your Doberman appropriate behaviors if the weather highly favors you and your dog with obedience training. Outside training is more fruitful if you have excellent educative equipment for your dog that is worth boasting of.
Give your dog more freedom to run during warm season – make it possible for him to spend hours in the open air – but do not forget to choose a good walking/training accessory for him. I know a wonderful storehouse of most demandable dog goods – my neighbor's Doberman wears only equipment got from there! If you are interested - let me know, please!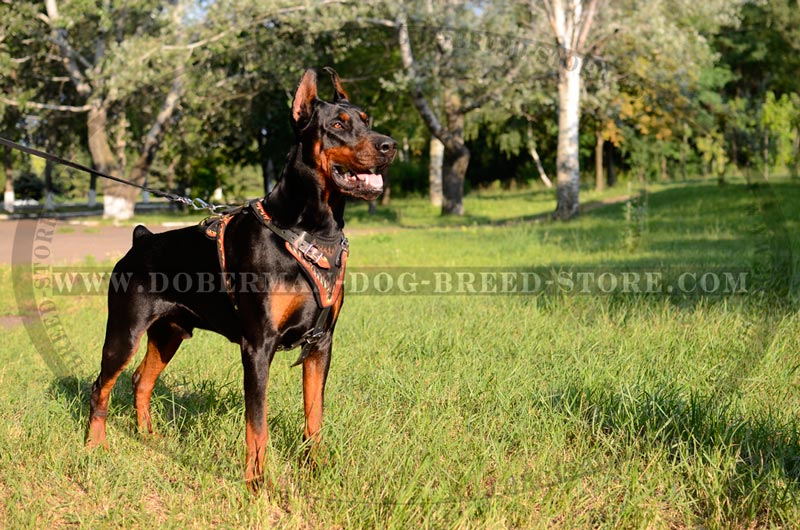 Red Fire Flames Painted Leather Harness Looks Better When Viewed Closely
Be aware of Doberman's inborn talents and abilities. Read the special lines below:
In fact it is not difficult to educate Doberman because this dog is a talented canine, easy trainable and manageable. Only a person with the making of a leader can get along with this animal. But, if this dog accepts you a leader you will not have difficulties with imparting him important needed knowledge. You are recommended choosing correct tactics and strategy for Doberman's training. It must be individual attention to every Doberman and a trial-and-error method is the best one for finding a right training technique.. Your Doberman is certain to make a civilized canine citizen if properly dealt with..
Dobermans are born fashionists that can engage all the glances of passers-by if adequately equipped. For instance, fire flames painted leather harness will perfectly do for your Doberman's walks in style! Elaborate design, trendy painting, ungraded comfort are combined in every dog product available in online catalogue of prestigious handmade accessories for large canines like Dobermans. What do you want? Is it a leather basket muzzle, choke/chain collar, practical and strong training/walking harness, long/short leash? Do not delay in getting top quality dog gear that will serve you for many years. You will be nicely surprized with the choice of fantastical facilities for Dobermans. Here you will find rubber discounted toys that will come handy in your Doberman's daily life!
| | |
| --- | --- |
| Classic dog collars are most suitable for regular wear. Simple but attractive design of this collar meets the eye. Its smooth hand polished surfaces are gentle to the skin. Wearing this collar your Doberman will feel very comfortable. This buckle collar is made by experienced specialists of ours. With this collar you are sure to be the happiest dog handler! | Your dog's new leash should look exactly as our beautiful lead with braids. No matter if you want to train your dog hard or walk quietly along the streets with him – this leather accessory will be of use to you! Leash walks are always memorable when your noble Doberman is led on such a classy lead. At that this multipurpose leather leash is a perfect control mean! |
---